AAMVA's Fraud Detection & Remediation (FDR) program helps you tackle fraud head-on with training used by DMVs, law enforcement, federal agencies, and corporations worldwide. FDR is a comprehensive anti-fraud toolbox for anyone handling secure documents or sensitive transactions, including all agency staff. Training modules are updated yearly with new and enhanced content.
New for 2023
---
Courseware Updates and Enhancements
New Mexican Document Material

Passport
Matricula Consular Card
CDL
Voting Card

New Canadian Visa
New I94, Employment Authorization Document edits
New Downloadable Title and Temp Tag Reference Guide
New Fraud Deterrence and Detection Best Practices Guide
New Partnering with Prosecutors Guide
Incorporation of DHS-HSI License Design resources
Updated Job Aids, Update Only Module, contact lists, etc.
New User Interface experience
FDR Training Levels
---
FDR training is broken down into two levels that allow for basic and enhanced learning opportunities for users.
FDR Level 1
FDR Level 1 introduces the basic techniques of fraudulent document recognition that staff can employ without the need for expensive forensic tools. Modules range from 30-45 minutes each (including a knowledge assessment at the end of each module). Jurisdiction members may train with the suite as a whole or choose to offer only those modules that are of highest priority/interest.
Free to jurisdiction member agencies and federal government associate members serving as FDR Partners
Select content available for purchase by associate members and non-members
Modules
Introduction to Fraud
Security Features
Birth Certificates
Vehicle Documents
Driver's Licenses, and ID Cards
Travel Documents
Social Security Cards
U.S. Immigration Documents
Military IDs
Canadian Travel, Citizenship, and Immigration Docs
Canadian Birth, Driver, and Vehicle Documents
Mexican Documents
Counterfeits and Alterations
People and Actions
Update-Only Module
Five (5) Members-Only Supplements
FDR Level 2
Level 2 builds concepts by introducing covert security features and developing student skills in the use of magnification, auxiliary lighting, and UV tools. Users will gain a solid understanding of how to begin a second-level review in today's fraud environment.
Free to jurisdiction members and federal government associate members serving as FDR Partners
NOT AVAILABLE to associate members or non-members
Modules
Introduction to Covert Features
Expanding the Review
Six (6) Members-Only Supplements
FDR Training for Jurisdiction Members and Federal Government Associate Members (FDR Partners)
---
The FDR courseware is intended for agency-wide implementation and should be downloaded by a single contact from the member agency rather than by individual students. Managers of agency business units are permitted to download the courseware but should coordinate with their training and IT staff.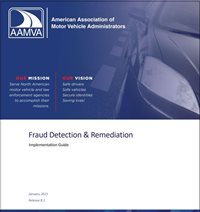 AAMVA has developed an Implementation Guide that explains how member agencies can use the various formats available to best fit their training strategies. Quick Start documents within the download packages will provide further details about each version.
Download FDR courseware

FDR Training for Other Associate Members and Non-Members
---
AAMVA is pleased to offer select content from FDR Level 1 training modules for purchase by commercial organizations and eligible individuals. The training is purchased/accessed online and is available in both Standard and Continuing Professional Education (CPE) accredited versions on the AAMVA Learning Store (an external site hosted by eLearnify.net).
Suggest New or Revised Courses
---
AAMVA welcomes all suggestions to improve FDR Training content. Complete the FDR Training Change Request Form. You will be given instructions to track the progress of your suggestion(s) from the moment it is submitted through its implementation.
---
For additional information or questions about Fraud Detection & Remediation (FDR) Training, please contact FDR Training.