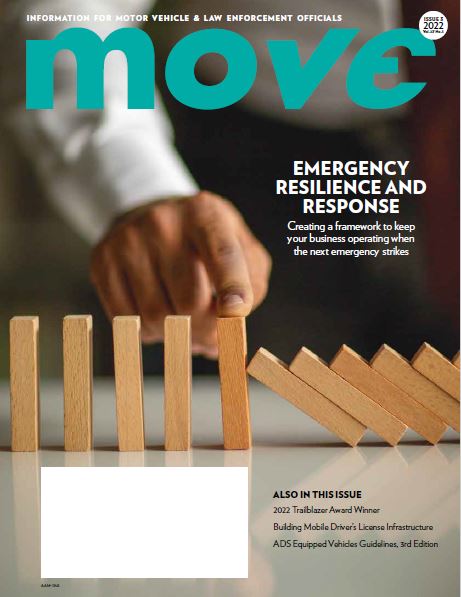 MOVE is the flagship publication of AAMVA and winner of multiple national magazine awards. MOVE's interactive online format provides feature articles and columns that keep readers informed of industry news and technological developments throughout the motor vehicle community. From updates on policy issues and regional news, to feature stories, Q&A's, and statistics, MOVE provides a wide range of relevant and timely articles on topics of interest to the AAMVA community.
Not only does MOVE captivate readers with entertaining and informative feature stories, member contributors can also provide perspectives on issues facing their jurisdictions in MOVE's Crossroads and Musings sections.
To read the most recent issue, visit our MOVE website and find additional web-exclusive and multimedia content.

We are currently printing and mailing quarterly issues of the magazine but are asking members to help us Go Green by selecting to receive a digital subscription only. Update your subscription preferences by logging into the website, navigating to My AAMVA, and clicking on Manage My Subscriptions. There you can unsubscribe to the print issues of the magazine and still access all the great content and even more on the digital platform.

For advertising in the magazine, please visit our Marketing & Advertising page.