Biographical Information
Age: 29
Tour of Duty: 1 year, 1 month
Cause of Death: Struck by Vehicle (Impaired Driver)
Trooper Branden Sisca and his colleague, Trooper Martin Mack, were struck and killed by a suspected drunk driver on southbound I-95 in Philadelphia.
They had responded to the area to investigate reports of a pedestrian walking along the interstate. They located the man and were assisting him into the back of one of their patrol vehicles when an approaching car attempted to pass the police vehicles by driving onto the shoulder. The vehicle fatally struck both troopers and the pedestrian they were assisting.
Trooper Sisca had served with the Pennsylvania State Police for 13 months and was assigned to Troop K.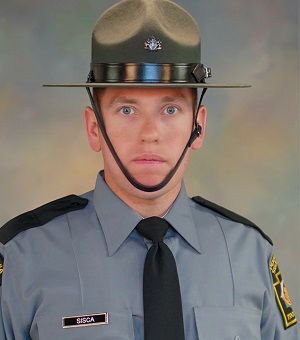 Trooper Branden Sisca - Pennsylvania State Police
End of Watch: March 21, 2022