This award recognizes an AAMVA member jurisdiction employee or other individual in motor vehicle administration whose primary function is directly associated with highway and traffic safety efforts and who has had a distinguished career in this arena. The individual can be currently active or retired.
This award is presented at the international level. Award nominations are from a chief motor vehicle or chief law enforcement administrator only. In the event that the chief administrator is the nominee, the nomination can be submitted by a deputy administrator.
Each agency may submit only ONE nominee.
Criteria for selection:
Extent of lifetime contributions and achievements
Impact on highway safety
2023 Winner
---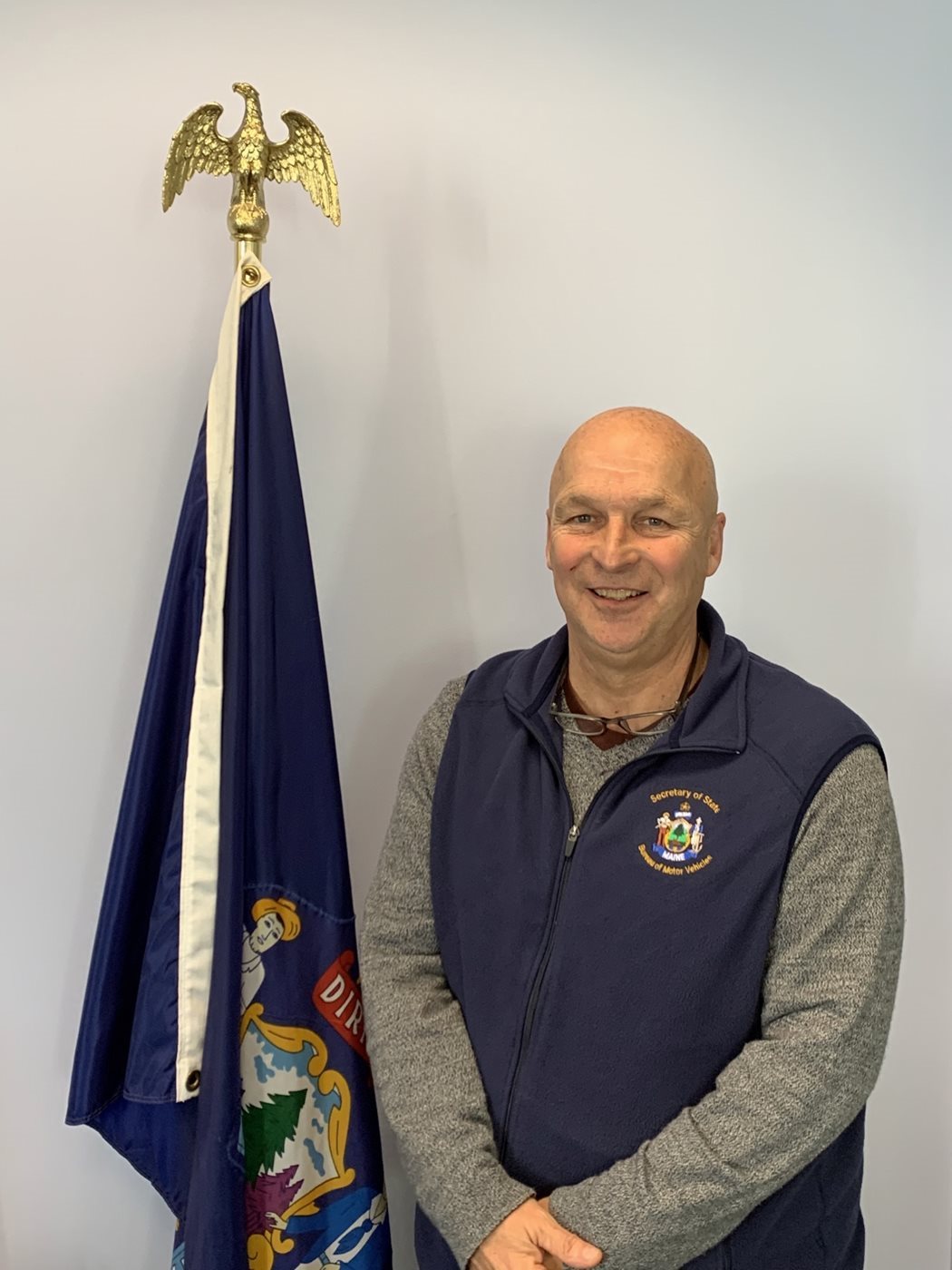 Larry Boivin
Maine Bureau of Motor Vehicles
Chief Driver License Examiner Larry Boivin has proudly served the State of Maine as a Driver License Examiner since 1989, becoming an Examiner Supervisor in 1996 and then Chief Examiner in 2005. During his tenure as Chief, Larry built a professional, uniform-wearing cadre of 25 Driver License Examiners and 4 Examiner Supervisors to serve Maine's roughly 1.1 million license holders. His uniform-wearing Examiners are the face of BMV as they administer all motor-vehicle-related exams—written and practical, CDL and non-CDL. From the approximately 13,000 driver education graduates who test every year, to the Entry Level Driver Training hopefuls seeking their CDL license and endorsements, all aspiring licensees must pass the scrutiny of Chief Boivin's Examiners. Over the course of his time as Chief, almost 300,000 Maine drivers earned their privileges…more than 25% of Maine's total driving population on the roads today.
Larry Boivin's story is much deeper than 'just' a standards-enforcing Examiner. Using sports broadcaster skills from his younger days, Chief Boivin led the charge to proactively communicate motor vehicle information to Mainers. In 2016, he penned an article titled "Get defensive!" in a local newspaper, followed that in 2017 with the YouTube Video "What to Expect During Your Maine Class C Driving License Road Test," and took the pandemic head on in 2020-2021 with two 3-part podcasts to discuss motorcycle safety and BMV's medical review process. Chief Boivin parlayed that same zeal to additionally address national topics. In 2013, he signed on as the Region 1 Subcommittee member on AAMVA's project to address CDL Testing for Hearing Impaired Applicants and also served on the AAMVA Test Maintenance Subcommittee from 2013-2017. In 2017, he served as a subject matter expert interviewed by the authors of "Advancing Automated and Connected Vehicles: Policy and Planning Strategies for State and Local Transportation Agencies" (National Academies Press). In 2019, he contributed to the article "Safety Assist" in the summer edition of MOVE Magazine, providing commentary on incorporating advanced driver assistance systems in driving evaluations.
Most significantly, however, are Chief Boivin's accomplishments as an organizational leader. He consistently invested in the professional development of his Examiners. His thorough Examiner's Manual includes ethics, customer service considerations, and clear performance expectations. Larry also convenes an annual conference for his examiners, bringing-in guest speakers across transportation, medical, and other related professional fields. Over the years, BMV consolidated authority under the Chief, where he currently oversees examination, issuance, and control functions within the Driver License Services Division. With this empowerment, he brings cohesion and efficiency in our license program. Our 2-person CDLIS Help Desk, established by the Chief in 2019, is a classic example; this same help desk was highlighted by AAMVA's CDLIS experts for outsized positive results in 2022. As 2022 concludes, contractors working with FMCSA to identify an ideal CDL Coordinator construct are actively working with Chief Boivin to understand how and why he is so successful.
Past Winners
---
2022: Millicent Ford, Virginia Department of Motor Vehicles
2021: Owen McShane, Director of Investigations, New York State Department of Motor Vehicles
2020: Karen Grim, Deputy Commissioner for Operations Virginia Department of Motor Vehicles
2019: Chuck DeWeese, Assistant Commissioner, New York State Department of Motor Vehicles
2018: Scott Stokes, Idaho Transportation Department, Division of Motor Vehicles
2017: Fred Zwonechek, Nebraska Department of Motor Vehicles
2016: Jesse White, Illinois Secretary of State
2015: Kim Snook, Iowa Department of Transportation