The Anti Car Theft Act and its regulations require each state to perform an instant title verification check before issuing a Certificate of Title for a vehicle that an individual or other entity brings into the state. Additionally, each state is required to report data into the system and pay user fees.

By providing vehicle data in the system, other states, law enforcement, and consumers rely on the information to make decisions around titling, investigating, and buying a vehicle. NMVTIS allows the titling agency to verify the information instantly and reliably on the paper title with the electronic data from the state that issued the title. Consumers can use NMVTIS to access important vehicle history information. NMVTIS is a tool that assists states and law enforcement in deterring and preventing title fraud and other crimes. Through participation in NMVTIS states help in the fight against fraud and theft, protect consumers from unsafe vehicles, and realize cost-savings along with other benefits.
State Participation
---
State motor vehicle agencies can choose from the following application options to satisfy the title verification and data reporting requirements of the Anti Car Theft Act and its regulations. The U.S. Department of Justice (DOJ) maintains the State Motor Vehicle Administration Overall Compliance map.
Verify Titles Solutions
---
Online Integrated
This approach enables a state to integrate NMVTIS title verification into the state's titling application, making it a seamless part of an online title process.
Batch Data Processing
Implementation of the online integrated solution, although desirable, may not always satisfy a state's particular needs at a given time. There are two options available for a state to verify titles prior to issuance in a standalone manner that do not require integration into a state's title system.
State Web Interface (SWI): Allows a state to conduct a single VIN inquiry into NMVTIS via the internet.
State Batch Inquiry: Allows a state to submit a batch file of VINs to inquire on NMVTIS.
Report State Data Solutions
---
Online Integrated
Using this approach a state's title and brand data is loaded into NMVTIS during the onboarding process. This solution enables a state to update title data to NMVTIS in an online (real-time) fashion. Online states also receive real-time notifications through NMVTIS when a vehicle from their state is retitled in another compliant state.
Batch Data Processing
Implementation of the fully integrated solution, although desirable, may not always satisfy a state's particular needs at a given time. This approach allows a state to report data in a standalone batch upload manner that does not require integration with a state's title system. States are required to update files daily.
For information about the NMVTIS application, rate information, and system documentation, please visit our NMVTIS system page.
Program Leadership
---
AAMVA created the NMVTIS State Program Subcommittee to work within the AAMVA committee structure on resolution of issues related to the NMVTIS state business rules. The subcommittee addresses and resolves vehicle, title, registration, and brand business issues. AAMVA also created the NMVTIS Law Enforcement Subcommittee to help law enforcement, DMV investigators, and administrators in keeping informed about laws that may assist with NMVTIS enforcement and regulatory efforts. The subcommittees have a combined meeting once each year.
Resources for States
---
AAMVA provides several tools for states to better understand and enhance participation in NMVTIS as well as to help protect states' customers before they consider purchasing a used vehicle.

More information about NMVTIS access by local, state, and federal law enforcement, including DMV investigators can be found here.
Working for States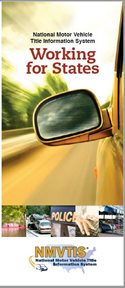 The Working for States brochure and companion video were developed to facilitate communication within your state about:
What NMVTIS is designed to do
How your state participates and benefits from it
How AAMVA can help your state get the most from its participation
Share the brochure and video with state titling customer service representatives, county offices, law enforcement, third party vendors, senior staff, your governor's office, and anyone else in the vehicle title processing field who works toward safer highways and consumer protection.


Check NMVTIS Before You Buy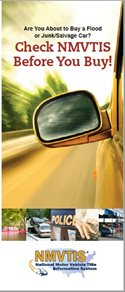 The Check NMVTIS Before You Buy! brochure and companion video were developed to:
Raise awareness to anyone thinking about buying a used vehicle that purchasing a NMVTIS vehicle history report may protect them from vehicle fraud and unsafe vehicles
Remind the consumer that state agencies also use NMVTIS information as part of their vehicle titling process, so why not check the same system state agencies use
States are encouraged to show the video in their public offices and on their websites to help customers make an informed decision before buying a used vehicle. We also suggest reaching out to the state agency responsible for consumer protection to offer the video as another resource. You may also direct your customers to the General Public and Consumer page or the Department of Justice's (DOJ) NMVTIS website to secure a NMVTIS vehicle history report.

Below are various options for the Check NMVTIS Before You Buy! videos, including uncaptioned, close captioned, and in Spanish (close captioned). Full videos and shorts are available.
Other Resources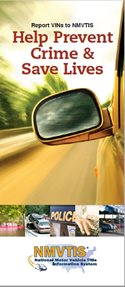 Help spread the word about NMVTIS reporting requirements to your state's entities (junk and salvage yards, auto recyclers, etc.) that obtain/buy junk, salvage, and/or total loss vehicles by sharing with them the Help Prevent Crime & Save Lives brochure.
To help title and registration program managers align NMVTIS with their jurisdiction's title practices, AAMVA's NMVTIS State Program Subcommittee developed and published the NMVTIS Best Practices for Title and Registration Program Managers. In addition, we offer webinars and training opportunities about NMVTIS.

The NMVTIS Final Rule requires AAMVA as the system operator to prepare an annual report and procure an independent financial audit. The report includes details around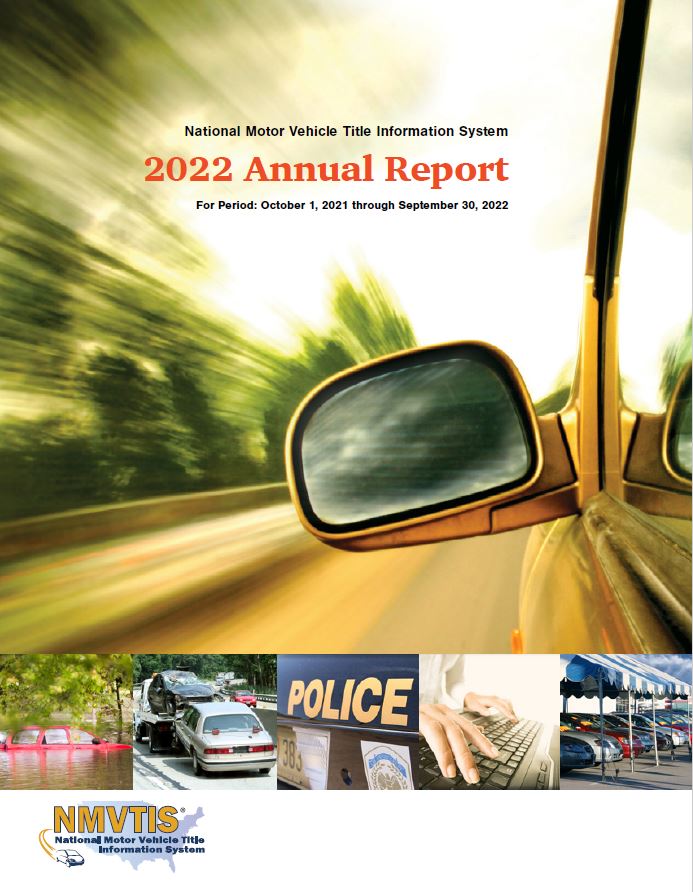 system operation, a status report on system implementation, compliance reporting, and detailed financial information. States provide input for the report about how NMVTIS is working for them and their customers.

In addition to the current report, past reports are published on the DOJ NMVTIS website along with the independent financial audits.
Check Before You Buy Videos
To select a video or clip, click on the drop down menu in the top left. Select the video and you can view it in the window. To download the videos, click here. You will be sent to Vimeo where you can download the video for your use.