This award is presented to jurisdiction individuals who have excelled in customer service delivery in a call center or on the front line of motor vehicle administration.
This is an individual award and is awarded one per each region and among those, an international winner is selected.
Each agency may submit only ONE entry.
Criteria for selection:
Impact on customer service delivery
Positive effect on agency
Serves as a model for other employees
Customer testimonials endorse service
2023 Winners
---
International and Region 2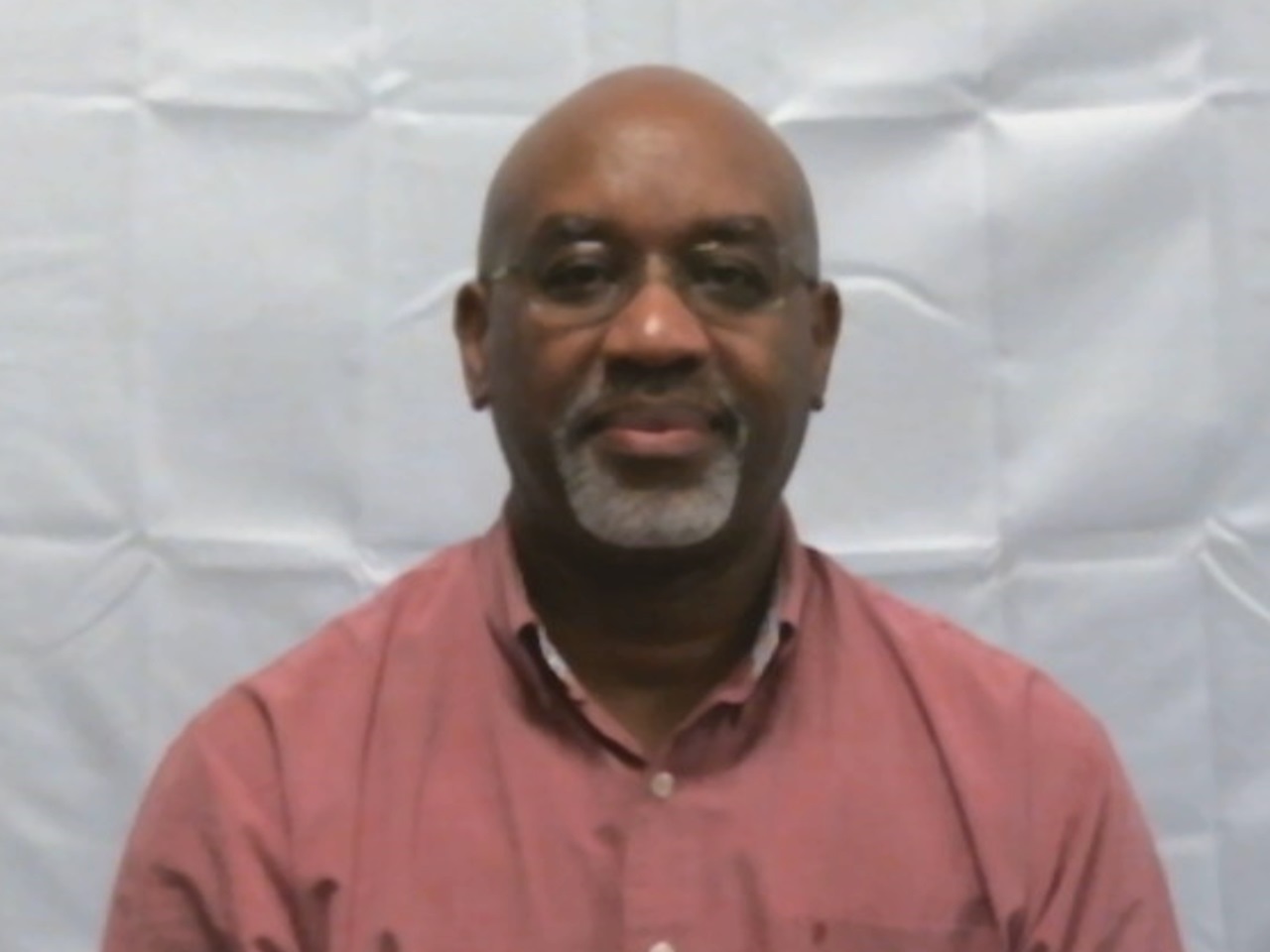 North Carolina Department of Transportation
David Jones, Assistant Manager, NCDMV Customer Contact Center
It is rare to find an employee who is respected and liked by 100% of those they encounter. David Jones is that and more. He is hands down the most kindhearted, generous, and professional employee NCDOT has. As a retired military veteran, David began his DMV career in 2007. The second day of training, he brought in typed class notes to share with everyone. At that moment North Carolina saw what the standard for the next 15 years would be. His willingness to put others first, investing in the success of others, going above and beyond, and genuinely caring for his coworkers is unmatched. David's selfless acts of kindness and generosity are known throughout DMV. At the Customer Contact Center, David is known to bring in fresh donuts or croissants, fruit, a favorite candy bar, a box of Pop-Tarts when he sees that elusive flavor in stock, decorative badge covers, a favorite snack food, or a UNC spiral notebook because he knows that is someone's school. Though these acts of kindness may seem small, it's enormous when a person is having "one of those days". Each school year he checks with single parents to see if they need additional school supplies. Many times, he donates fully stocked backpacks to employees to ensure their children have what they need for a successful start of the school year. In the lowest of moments, he is a source of comfort to coworkers whether it's a call when a parent dies, sympathy cards signed by everyone in the unit delivered at home or during visitation, or a text message to check on an employee. Customers benefit from David's extra efforts as well. He has led, by car, a lost customer from our office to the local license plate agency, stays on the phone with customers until they successfully process their online transaction, and follows up with customers to confirm they received their title or renewal sticker. Customers call, email, and mail in commendations for David stating they have never experienced such outstanding customer service. David is TEAMWORK. NCDOT and NCDMV is better because of David.
Region 1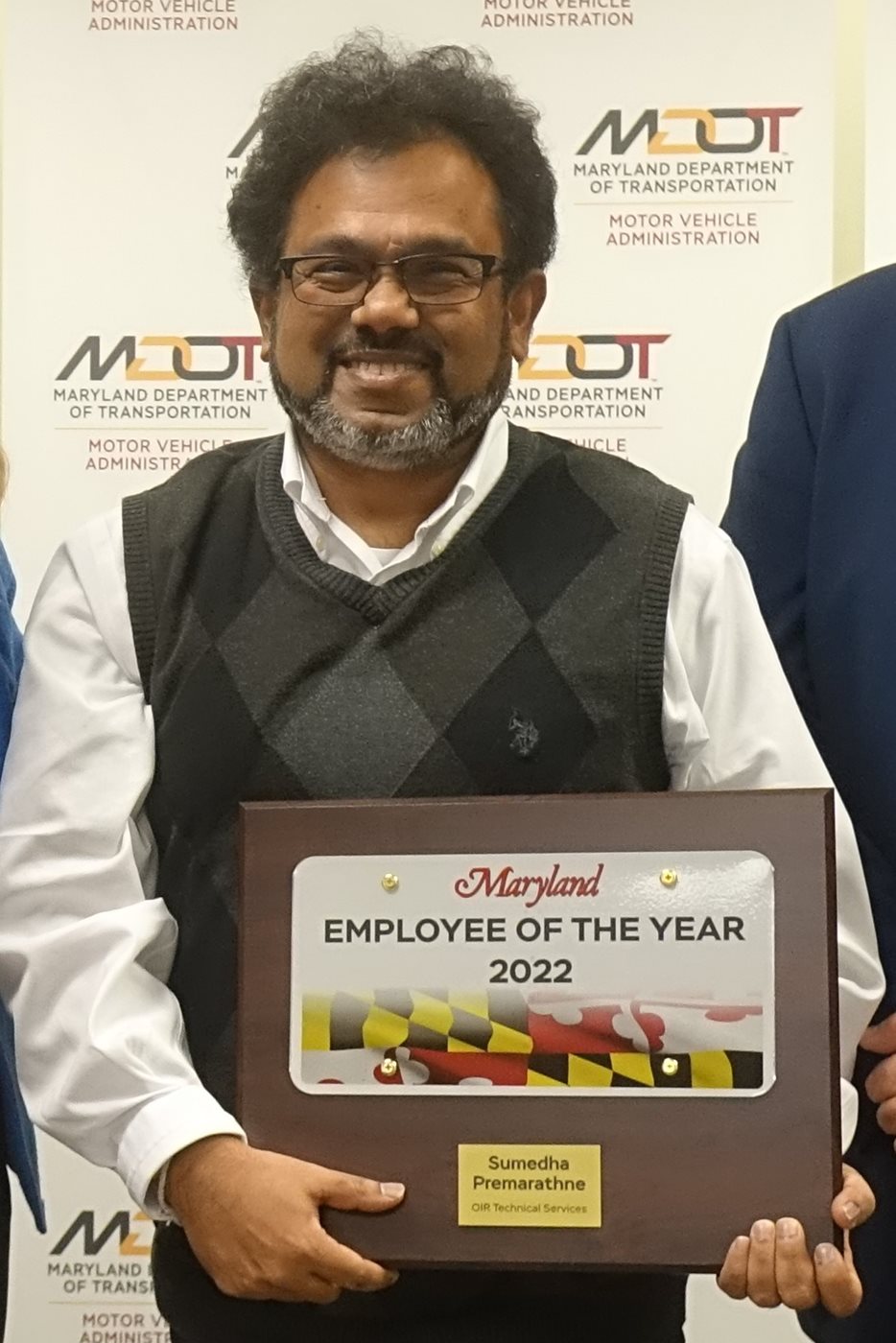 Maryland Motor Vehicle Administration
Sumedha Premarathne, Assistant Director, Office of Information Resources
Sumedha Premarathne is an Assistant Director in the MDOT MVA Office of Information Resources OIR Technical Systems Services (TSS) team. Sumedha is an exemplary leader who continually earns respect from his team, co-workers, and management team. He overcomes every challenge that he faces and always has a positive attitude. Sumedha and his team are responsible for the MVA's Local Area Network infrastructure including servers, storage area networks, and network security among other things. His leadership skills have been key to the successful completion of over 40 TSS projects in the past year alone—including Customer Connect, an MDOT MVA project that modernized all of MDOT MVAs aging legacy systems into one application. He is also integral in the day-to-day maintenance, security, and support of all MVA systems. This work requires Sumedha to be on-call 24x7x365. Outside of MVA work this year, Sumedha coordinated a six-week visit to Sri Lanka with his daughter, Rithma, where they raised money through an organization called Donate for Dreams to help kids around the world reach their dreams by getting a quality education and provide children and their families with appropriate resources and funds that allow them to accomplish this. On this trip, they provided supplies, uniforms and backpacks to a school that they previously helped build, as well as donated food and supplies to an orphanage and others in need. This visit took place during a time of civil unrest within the country where his leadership skills were put to the test while negotiating with the government to get fuel for their bus and access to areas that were locked down. Because of his work both professionally and personally, Sumedha was recently named the MDOT MVA 2022 Employee of the Year by Administrator Chrissy Nizer.
Region 3

Ohio Bureau of Motor Vehicles
Rachel Borden, Customer Service Manager
Rachel Borden is a Telecommunications Call Center, Customer Service Manager and providing excellent customer service is her main goal. She enjoys the interaction with her customers and the satisfaction that comes from helping solve their problems. She takes responsibility when something goes wrong and does what she can to make it right in a timely fashion. Rachel values her customers, exceeds their expectations, and goes above and beyond to achieve customer satisfaction. Rachel has a professional, patient, and "people first" attitude. She is continually looking for ways to improve; she strives every day to do better and learn more. She is always sharing ideas and recommendations, expanding knowledge through training opportunities and sharing that knowledge with the team. Rachel is always willing to take on a new task, learn a new process, or train and coach current or new employees. Rachel has established personal connections with members of the team and is always willing to assist the team in any way. She will utilize all her resources before reaching out to assist customers. Rachel is always willing to give feedback; she takes coaching and training very seriously. Rachel was extremely willing to join a new team and spread her knowledge to the team members. Rachel is open and approachable to new ideas; she reaches out and shares new ideas. She considers what's new, what is coming next, and what she can do better. Rachel is concerned with engagement and satisfaction of the team, and holds a "be available" mindset, while leading by example. With over 20 years of service to the Ohio BMV, her dedication shines through her every day work. Rachel is passionate about her position, her customers, her team, and expanding and sharing her knowledge. Rachel's commitment to the call center is a true testament to her desire to provide outstanding customer service on the very front lines for the Ohio Bureau of Motor Vehicles.
Region 4

Oregon Department of Transportation Driver and Motor Vehicle Services
Byron Gross, Operations & Policy Analyst 2
Byron Gross is an Operations and Policy Analyst 2 with the Oregon DMV. He works in the Customer Assistance group at the CA Help Desk, which serves as both a resource for call center employees and as an escalation repository for complex customer questions and situations. Byron is regularly recognized by customers and peers for his clear and comprehensive communication style. He has a true talent for his work and is gifted at helping customers either find a resolution or define their next step forward. His institutional knowledge makes him a valuable resource at DMV and a key contributor to our work. He embodies the Oregon DMV values mindset and the strategic vision that DMV delivers excellent customer service. Byron is a leader among his customer assistance peers. He is an approachable person who is always happy to help clarify a process or answer a question for his fellow employees. In addition to his work responding directly to customers, he regularly serves as a customer assistance representative on projects. His keen understanding of how implementations could impact customer assistance business helps improve the final outcomes. His ability to think through the needs of customer assistance staff and advocate on their behalf is appreciated by his managers and peers. Byron is an active attendee of the monthly DMV Customer Engagement Meeting, who share current experiences with customers across all business sections of Oregon DMV.