This award is presented to the best use of social media, such as Facebook, Twitter, Instagram, etc.
This is awarded one per each region and among those, an international winner is selected.
Each agency may submit only ONE entry.
Criteria for selection:
Frequency of updates
Content
Innovation
Engagement
Effectiveness
2023 Winners
---
International and Region 3

North Dakota Department of Transportation
ND Sober Ride
ND Sober Ride is a program aimed at reducing impaired drivers on North Dakota roads through ride-hailing vouchers. The program is a technology-based solution and alternative to impaired driving. It is offered during holidays and events where someone may overindulge. The Halloween holiday has been very successful for ND Sober Ride. This specific campaign used $10 Lyft vouchers as an incentive if those in need of a sober ride used the Lyft code "VZHALLOWEEN1." The code was available Oct. 29-31, 2021, and 83 sober rides were given throughout the weekend. The promotion of ND Sober Ride for Halloween was successful largely because of social media. The target audience was adults aged 18-34. To reach this audience, the Halloween campaign was promoted through organic social media and paid which included Facebook, Instagram, Snapchat and TikTok. Facebook and Instagram garnered 592,628 impressions, a reach of 100,732, 4,054 clicks (.68% CTR), and 2,580 engagements. The audience was slightly more female with the majority aged 25-34. Snapchat had a total of 331,209 impressions, 2,833 swipes, and a reach of 45,080. The audience was slightly more female with the majority aged 18-34. TikTok had 5,647 impressions, 2,833 clicks (.87% CTR), a reach of 4,508, 5,151 video views, and 24 likes. The audience was mostly females age 25-35+. The total social media budget was $7,649.61. Organic posts on social media also had great success. On Facebook, the posts combined had 307 engagements, 128 reactions, two comments and 105 shares. Additionally, the Vision Zero Facebook page had messages from people wanting more information.
Region 1

New York State Department of Motor Vehicles
New York State DMV Social Media
New York State DMV's Communications team creates robust social media campaigns on Twitter, Facebook, and Instagram with posts at least daily every weekday. In addition, Communications staff works every weekday with consumers on the social media platforms to address their concerns and assist with issues, often turning an initial negative response into a positive one. NYSDMV focuses its posts to be informative, to take advantage of trending topics, and often uses humor to get its message across. DMV's posts had more than 60 million impressions between October 1, 2021 and September 30, 2022. In addition, DMV staff works to provide excellent customer service with responses to consumers who post publicly or send direct messages on social media outlets. One customer responded to the assistance received by stating: "Contacting DMV through Instagram and getting a resolution to my problem is greatly appreciated. I've been trying for days to get this resolved and this was my last try before heading down to DMV personally. Thank you for being so helpful. I will recommend to my family and friends if you don't mind."
Region 2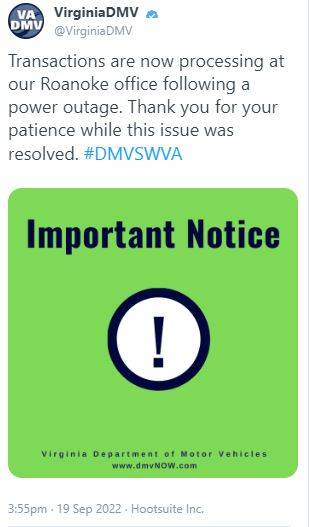 Virginia Department of Motor Vehicles
Virginia DMV Regional Hashtag Campaign
It's easy to get lost in the chatter of social media, so the Virginia Department of Motor Vehicles (DMV) devised a way to cut through the noise and get its operational messages to the customers who needed to hear them. Questions about DMV office wait times, service interruptions and other on-site issues from customers who were already in the building awaiting service led DMV to recognize that an earlier, more visible way to manage customer expectations was needed. To give customers a glimpse into their local office before they arrived, they employed a tool to both localize messaging and consolidate all operational content, including wait times, best days to visit a specific office, and technical difficulties. In addition to helping customers better plan their office visit, DMV sought to reduce lines inside and outside the building to foster a more pleasant customer experience. DMV's small social media team proposed the use of hashtags instead of creating additional DMV accounts for each region. Not only did this make a potentially large undertaking for staff more manageable, it also gave customers the opportunity to get highly curated local content without following multiple DMV accounts to receive all the agency's content. Each of DMV's 76 customer service centers were categorized into regions of Virginia so that customers could easily determine which hashtag they needed to follow. On August 10, 2022, DMV began general promotion of the hashtags through social media to familiarize customers with the effort and educate them about what information could be found in these curated feeds. Organic content was posted on Facebook, Twitter, and Instagram approximately three to five times each week with an effort to highlight each hashtag regularly. In late September 2022, after about six weeks of hashtag use, reach on Facebook and Instagram increased by 63% to 67,806 unique individuals, and Twitter impressions rose by 94% to 28,347. Internal customer service data showed that lines at DMV offices were shrinking, lobbies were no longer crowded with waiting customers. Regional hashtag use continued to rise, and the effort has been credited with the reduction in customer lines. DMV plans to continue using and expanding upon the use of its regional hashtags to help customers have the most convenient and efficient DMV visit possible. A theme within the regional messaging campaign sums it up best: "Avoid the Line. Know before you go."
Region 4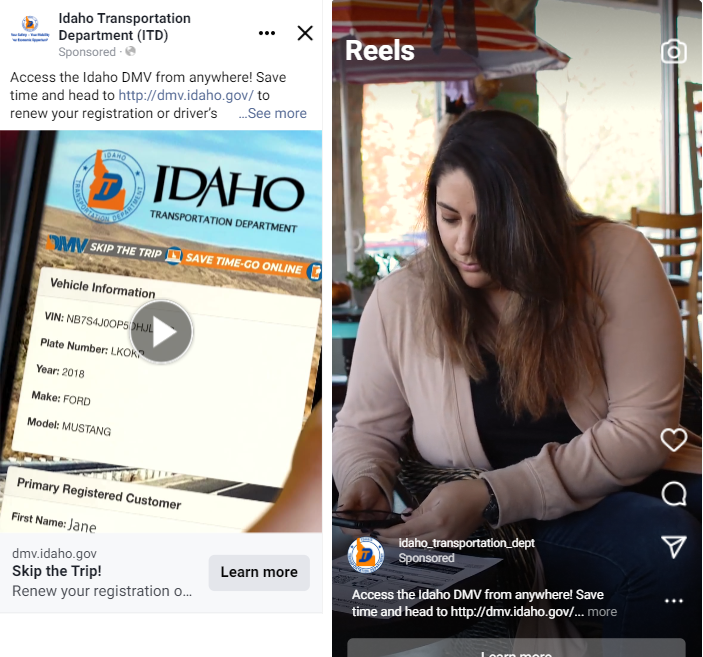 Idaho Transportation Department Division of Motor Vehicles
Idaho DMV Skip the Trip Campaign
Skip the Trip is the Idaho Division of Motor Vehicles (DMV) campaign to increase awareness for money-saving online DMV services. This Mountain Biking Video illustrates that you can access the DMV online from anywhere. The intended audience is busy Idahoans who don't want a trip to the DMV to slow down their active lifestyle. The video ad ran on YouTube and Meta (Facebook and Instagram) in October 2022 when the DMV removed convenience and county administration fees for online registration renewals. On Meta, the video's reach was 172,511, with 8,574 clicks. That video also got 402,891 impressions on YouTube as a skippable ad. The price reduction and awareness campaign led to record-breaking online registration renewals in October and November of 2022. The number of online registration renewals had averaged around the mid-30,000s but in October, there were over 52,000 online registration renewals. October's record was promptly smashed in November, which saw over 73,000 online renewals.